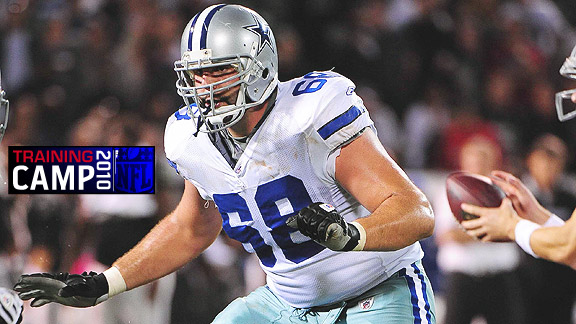 Preseason-jeopardizing injuries to Dez Bryant and now Marcus Spears were the bad new in the first leg of training camp. Here's the good:

The three players who walked into the Alamodome on July 24 with the most questions surrounding them have all impressed. Kicker David Buehler has made a high percentage of his field goal tries from all distances and angles. Safety Alan Ball has shown range and the ability to get himself in position.

And left tackle Doug Free, perhaps the biggest concern of all for many, has excelled as well, at least according to the head coach. In taking over for Flozell Adams, Free has received high marks in San Antonio.

"Excellent," Wade Phillips said. "Doug Free's had a great training camp, probably the best of our offensive linemen.

"I don't have any doubt that he'll play well."
I wrote in a post last week about the Cowboys that my concerns were with Ball and Buehler. Great to see both had excellent camps. I still am worried about Ball making tackles, more than his coverage ability. He's sized more like a corner than a safety, and he's not going to be making many body tackles on running backs. He'll be reaching with his arms, or trying to throw a shoulder down low at the legs. That's something I'll be keying on during the regular season.
I knew Free would kick some ass. The guy simply has more will than everyone else. Combine that with speed, power, and technique, maybe he will contend for a pro-bowl spot in a year or two. That's why everyone is enthused about him. I thought he should have replaced Flozell a season earlier.. as I'm sure some of you regulars know because I spent most of last season bitching about him.
Spears' injury looks like he'll be out for the rest of pre-season, but I'd expect he'll be in the lineup for the first game. There's two backups that should be able to get the job done in the meantime. I'd imagine even if Spears is back for the opening game, they'll probably sub the backups in often just to get him a rest.
I'm still dreading the potential long game-winning field goal attempts from a completely untested kicker. It's pretty shitty the way kickers have such a huge impact on the NFL game. I think the NFL should reduce field goals to 2 points. That would dramatically change 4th down on the other team's side of the field. If a coach knows he can makeup the points via 2 point TD conversions, they'll be less inclined to try the longer kicks. Running the offense on 4th and 2 with the ball on the 33 yard line would be common, and a hell of a lot more exciting than a field goal try.